Events
Cat Mahaffey to speak at event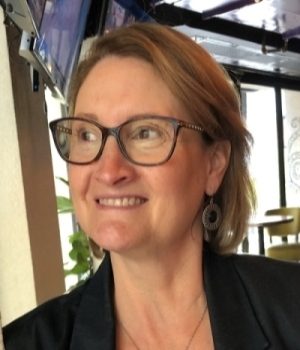 Our own Cat Mahaffey will be one of several speakers at a TEDxCharlotte event on Friday, September 30, 2022. Livestream for free!
More information on this event can be found at TEDxCharlotte event. 2022 FIRST-YEAR WRITING AWARDS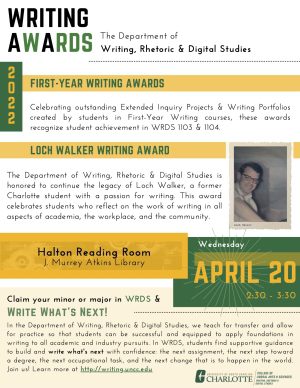 Submit your Writing for the 2022 Loch Walker writing award
Award Amount: Two $500 prizes will be awarded: one to an undergraduate student and one to a graduate student. The submission deadline for the 2022 award will be posted soon. Please check back for more information. the 2019 – 2020 Writing, Rhetoric & Digital Studies Department First-Year Writing Student Awards
On April 23, 2021, the WRDS Department held its annual First-Year Writing Awards ceremony (via Zoom) for the 2019-2020 school year. The purpose of these awards is to recognize exemplary student work in first-year writing, particularly in the genres of inquiry projects, portfolios, and reflective writing. A link to the presentation shown during the ceremony may be accessed here. It includes names of student winners and honorable mentions, as well as samples of award-winning work. These awarded projects demonstrate the excellent work WRDS students did last year. Enjoy the work of our First-Year Writing students!
The 2018 – 2019 University Writing Program First-Year Writing Student Awards Ceremony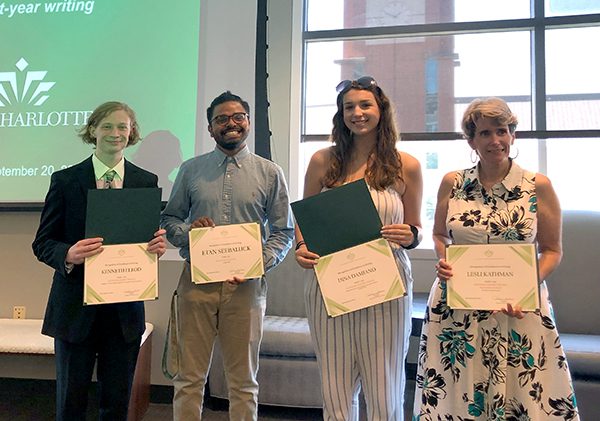 Friday, September 20, in the Atkins Library Halton Reading Room, the First-Year Writing Student Awards were held to celebrate the best in student writing.
To view the work of our past winners, visit the First-Year Writing Student Awards page.
This year's winners (from left to right): Kenneth Elrod, Etan Seebaluck, Dina Damiano, and Lesli Kathman